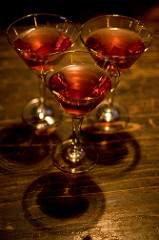 Photo Credit: Bridget Coila
Most employees look forward to holiday office parties. It's a time to relax and have fun with their co-workers on their company's tab. But, how a company handles the alcohol issue at an office party can make or break the entire event. As an attorney in Phoenix, I think it is a mistake to ban alcohol from the event, as it shows a level of mistrust that will deflate morale, which is why you are having the event in the first place, right? So, here are 4 questions to answer when considering how to responsibly include alcohol at your company's holiday party:
#1: How do we stop people from drinking too much? When you mix together free drinks, the holidays and a party, some people will be tempted to get plastered. So, you need to limit their consumption with a ticket system or similar scheme to prevent binge drinking. Otherwise, a cash bar might slow their roll a bit, too.
#2: How will the attendees get home? A DUI is just about the worst way an evening can end for an employee, and it is totally avoidable at very little cost. I suggest giving the employees a code for Uber that will cover their ride home, or pay for a hotel room within walking distance of the party. Pricey? Sure – but not nearly as expensive as the lost productivity of a jailed employee or a lawsuit by the person hurt or killed by a drunk employee in a car crash.
#3: How will we intervene in situations of unacceptable behavior? One of my favorite Spring Break t-shirts shows the stages of tequila drinking: I'm funny, I'm smart, I'm good-looking, I'm a badass, I'm invisible. Let's face it: alcohol makes people do some really stupid stuff. So, it is a good idea to appoint a few people as the party hosts, and task them with intervening when people have one too many drinks. Not taking measures to nix inappropriate behavior sets a company up for a big fat lawsuit.
#4: What other ways can we discourage drunkenness? In addition to a drink ticket system or cash bar, there are other ways to assist in keeping guests from overindulging. Offer a diverse array of foods, including good portions of protein and multiple choices of breads. Make sure there are several water bottle stations, and supply a wide variety of soft drinks, ginger ale, and coffee in addition to alcohol. All of these ideas will reduce the chances of an employee becoming too inebriated.
Holiday work parties can both be fun AND stay in control; it just takes a little advanced planning and preparation. Everyone can have a good time while staying safe, and be able to show their faces unashamed on Monday.