ANIMAL WELFARE PROPONENT AND ARIZONA ATTORNEY MARK BRIGGS COMMENTS ON THE FATE OF PETS IN AREAS IMPACTED BY NATURAL DISASTERS SUCH AS THE RECENT OKLAHOMA TORNADO: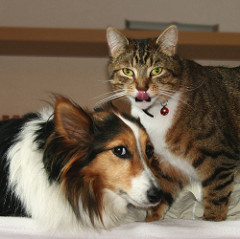 Photo Credit: Daan Franken
Where would we be without pets? Seamus and Fitzgerald, my two Irish Wolfhound mixes, bring so much joy into my family's life—from affection and companionship, to a meticulous clean-up crew for our dining room floor.
Whether you or not you have a pet, it's easy to agree that pets are a huge part of many Americans' lives. According to the Humane Society of the United States, there are approximately 164 million pet cats and dogs in the U.S., and that doesn't even factor in other wonderful pets like hamsters, turtles and goldfish! But when a horrible tragedy strikes a community, such as last month's tornado in Oklahoma, pets are often some of the most overlooked victims.
Tales of lost pets are often some of the most resonant stories we take from such disasters. For example, many of you probably saw the simultaneously heartbreaking and uplifting video of a woman in Oklahoma reuniting with her dog during a live interview in the midst of the rubble.
Luckily, there are some wonderful organizations that work in the aftermath of such tragedies to rescue animals and either reunite them with their owners, or find them new loving caretakers. When I was on the Board of the Arizona Humane Society, we deployed an animal rescue team to New Orleans in the wake of Hurricane Katrina. It was tough work in dangerous conditions, but AHS was able to help hundreds of animals, and eventually arranged for the Arizona Air National Guard to fly back dozens of pets to Phoenix for adoption.
In Oklahoma, the Oklahoma Department of Agriculture, Food and Forestry worked with the USDA's Animals and Plant Health Inspection Service to triage animals, and helped return hundreds of cats and dogs to their owners within days of the storm. Animal shelters from far-away cities, such as Long Island's North Shore Animal League and PAWS Chicago, reached out and took on dozens of abandoned pets in the days that followed the tornado, helping more than 100 cats and dogs find new homes.
What's more, pets have even been instrumental in the recovery process. In fact, Arizona has actually helped lead the way on this front: Mickey, a certified therapy dog from AZ, went to Oklahoma in the wake of the storm to help lift the spirits of people who had lost everything.
Pets do so much for us, so I love to hear about how we help them in their time of need, too.