TIPS FROM ARIZONA ATTORNEY MARK BRIGGS ON AVOIDING CATASTROPHIC FAILURES WHEN LAUNCHING STARTUPS.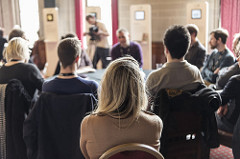 Photo Credit: Apps for Europe
So you want to start your own business. Good for you! You're passionate, you have a vision and, of course, you want to be your own boss – who wouldn't??
But it should come as no surprise that there are inherent risks in launching a startup. Most business owners already know this: According to Forbes, researchers say that more than half of small business owners worry about the dangers that often come with launching and growing a new business.
Mind you, there is no way to completely avoid the risk of failure when launching a startup—it's just a part of the deal. In fact, you would never want to have minimal risk in that situation, because it means you are not aiming high enough, and the hard truth is that complete failure is a very real possibility. The key is to avoid catastrophic failures—the kind of mistakes that cause permanent damage, such as wiping out your retirement account, sending you to prison, ending your marriage, or putting an indelible black mark on your reputation. Everything else is fixable.
But how can you spot a catastrophic failure when it is coming at you? And even if you do see it coming, how can you rectify the situation before it is too late?
Thankfully, there are a couple of steps that can dramatically reduce the risk of such a catastrophic failure. An advisory board, for example, is a good way to surround yourself with smart, trustworthy people who can help you steer your startup in the right direction, and keep an eye on how business decisions may impact you personally. A good advisory board offers the wisdom gained from others' failures, so you can better spot and avoid a calamity before it is too late. Another smart idea is to adequately insure yourself, your key employees and your business assets. A vast majority of the business plans I read do not contemplate adequate funding for insurance against catastrophic events. Granted, insurance addresses events with a low likelihood of occurrence, but the outcomes of those events are sometimes devastating. Don't put your future into the winds of fate just to save a little money.
Do you have any experience launching a startup? Feel free to share your experiences in the comments section.