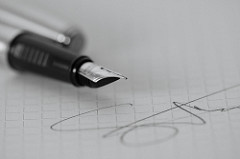 Photo Credit: Sebastien Wiertz
You should know your options to resolve landlord-tenant issues like unpaid rent. An eviction or a lock-out may be the solution you need to remove a tenant that is not meeting the terms of the lease. In this week's blog post, Mark Briggs attorney provides tips on avoiding commercial landlord-tenant issues.
Commercial real estate tenants generally have fewer protections than residential tenants for a few reasons:
Businesses are assumed to be on equal footing with commercial real estate leasing companies.
Commercial leases are typically customized for each business and property, unlike residential leases, which tend to be more standard.
Businesses typically have more negotiating power, as well as legal and financial advisor resources that typical renters cannot afford.
IF YOU CANNOT PAY RENT
Your company's relationship with its landlord and the details of the lease will determine what the legal obligations and options are if your company cannot pay the rent.
If your company is late its rent payment the landlord might be able to enter the property and take possession of the space once the grace period has passed (most leases have a grace period of a few days for rent to be paid, sometimes with a late fee). The landlord might also be able to place a lien against equipment, inventory and other property of your company inside the leased premises until back rent and all late fees are paid.
Your company's landlord wants to make money from the leased premises, so the lease was written to protect the landlord from tenants who default on their obligations. However, unless the space is in a "hot" market or has a below-market rate, most commercial landlords would prefer to work out a payment plan with their tenants than evict them. I know of some landlords who even reduce the monthly rent or give a month or two of free rent to help out a good tenant. The key is talking to the landlord early and being honest about your company's cash flow situation.
FORCIBLE DETAINER LAWSUIT
Otherwise known as an eviction, a landlord can request that a judge evict your company if it is not meeting the terms of the lease. If the landlord has solid documentation, they almost always will win the lawsuit. However, eviction in a commercial lease typically takes at least a few weeks. In this time your company can usually safely remove its property from the premises before being evicted. As soon as you know your company will have a difficult time paying its rent on time, consult with your attorney and come up with a plan to work with your landlord and possibly vacate the premises if necessary. This is not a time to just hope a bag of money falls out of the sky onto your desk. Get proactive!
COMMERCIAL LOCK-OUT
A lock-out is a decisive way to handle landlord-tenant issues, and it is an action that can be performed without waiting for court approval. As long as the lease agreement does not prohibit a lock-out and the tenant has breached the lease — typically over 5 days past due on rent — the landlord can usually change the locks and prevent a tenant from using the premises. Your landlord cannot perform a lock-out while someone is inside the premises, and usually cannot breach the peace. So, lock-outs often occur at night or on weekends. If a lock-out is a possibility, before you leave the premises for the night or weekend, get a backup hard drive with your computer system's files on it, along with any other mission critical items you can carry in and out each day. Also, you could take pictures and/or video everything in your office to protect yourself from potential theft in connection with a lock-out. I have seen many situations where a landlord seems to be working with a tenant and decides to lock them out without notice. Don't let this take you by surprise.