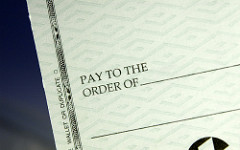 Photo Credit: photographybanzai
Mark Briggs, Phoenix attorney at Briggs law group knows the pay structure of your business is critical not only to your internal control, but to protect you from outside liability in the form of government audits and legal conflict. If you are just starting out or have recently restructured your company, you may need the following tips on what the pay structure of your business should look like.
JOB DESCRIPTIONS MATCH PAY LEVELS
You need to have written and disseminated detailed job descriptions for every pay level in your organization. Job descriptions should outline the prerequisites and qualifications for the job itself, as well as detailed synopses of the tasks involved with the job. Each job description should match with a specific pay level.
If you don't want to advertise pay grades to just anyone perusing the job descriptions, there's a way around that. The pay levels can be notated with numerals that are associated with salaries. The human resources department can hold the specific salaries privately so that only qualified staff members can access the dollar amounts.
SALARY RANGES ARE IN PLACE TO MANAGE INCREASES
Use salary ranges instead of concrete numbers for each pay grade. Salary ranges give flexibility when hiring and when managing raises. Instead of automatically moving up a whole level when an employee receives a raise, they can simply move up within the range for their current position.
This system allows for easier payroll management when your accountants know that everyone at a certain pay level cannot go beyond a certain range, yet can still get cost of living or performance increase.
A PAYROLL BUDGET IS IN PLACE
You need to have a strict payroll budget in place. Once you hire an employee, you are legally bound to pay them according to the terms of your payroll schedule. In addition to their pay, you are liable for the payroll taxes associated with each paycheck.
Without a payroll budget in place that takes taxes into account, it's too easy to go over it and find yourself short.
Creating and managing your pay structure before you hire is the best way, but you can still implement these strategies with an existing workforce if you disseminate the information within the confines of the law. Speak to an attorney if you have any questions about the process or if you would like assistance with your pay structuring.