MARK BRIGGS LAWYER: ESTABLISHING CREDIT FOR YOUR SMALL BUSINESS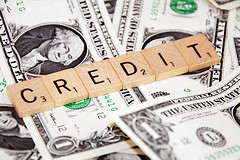 Photo Credit: 401(K) 2012
Using a personal credit card to fund your small business is a risky venture because you could be held personally liable if someone decides to file a lawsuit against your business. To protect your personal assets and credit rating, all of your business expenses need to be kept separate from your personal finances. This means you must establish credit in your business's name.
MAKE SURE CREDITORS CAN VALIDATE YOUR BUSINESS INFO
Try to make it easy for lenders and creditors to validate your business information so you can begin building a solid credit report for your company. These four steps will get you started:
Establish a Separate Business Entity: To protect your personal credit rating and assets, you must establish your business as a completely separate entity from yourself. To do this, consider incorporating or forming a LLC.
Apply for a Tax ID Number: To register your company with the business credit bureaus so you can begin obtaining credit, your business needs to have its own Federal Tax Identification number from the IRS.
Set Up a Separate Business Phone: Help maintain a professional image by setting up a dedicated phone line for the business. Your company phone number should be listed in the 411 directory so creditors and lenders can easily verify your information when applying for a business loan or credit.
Open a Business Bank Account: Open a bank account with your legal business name that is separate from your personal accounts.
APPLY FOR BUSINESS CREDIT
After you've followed the four steps listed above, you are ready to begin applying for business credit. If your new company has literally no credit history, the easiest way to begin establishing credit is often through your regular vendors. Find a vendor that will extend a line of credit so you can finance purchases for your business. This not only conserves your company's limited cash, it also begins building your business's credit history.
Establishing credit is a crucial component in the growth of your young company because businesses typically have a much higher credit capacity than individuals.