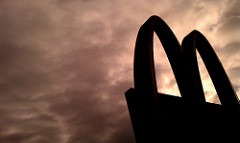 Photo Credit: Keoni Cabral
Many people associate "franchise" with fast-food restaurants; the reality is a lot of nationally recognized businesses operate under franchise agreements, such as:
H&R Block
Best Western Hotels
The UPS Store
Massage Envy
Coldstone Creamery
Radio Shack
There were 746,828 franchises in the United States in 2012, according to the International Franchise Association, which projected another 10,000 franchises would be built per year in the next few years. Franchises employed an astounding 8.1 million Americans and produced about 3.4% of the nation's gross domestic product in 2012.
Carol Tice of Entrepreneur says when a concept is franchised the right way, it can be a growth strategy that won't require as much up-front capital as other growth methods.
DEFINING FRANCHISE AGREEMENT
If you're going to franchise your business, you should fully understand the concept. You're the "franchisor." The person who opens and manages a business that bears your name is the "franchisee."
Franchise Agreement – An agreement that allows the franchisee to access the franchisor's proprietary assets, including processes, trademarks and patented products and sell the same services under the franchisor's branding. The franchisee typically pays the franchisor an initial startup fee and annual licensing fees.
Franchise agreements typically call for the franchisor to receive 4% to 8% of the franchisee's sales revenues.
ADVANTAGES OF FRANCHISING
Franchisees are your de-facto managers. Because they have an ownership stake, they're more likely to be with your company longer. They also are responsible for hiring employees at their franchises.
The franchisees take care of site scouting, building construction, buying equipment, hiring and training employees
You maintain control over your branding, advertising and training materials.
ELEMENTS OF A GOOD FRANCHISE AGREEMENT
The Federal Trade Commission regulates franchises and breaks franchise agreements into three basic parts:
Trademark– This covers how the franchisee may and may not use the trademark.
Control– This covers how much control the franchisor will have over operations, including physical location, hours of operation, accounting practices, promotional programs and operations and employee manuals
Payment– The financial portion covers the initial fee, licensing payments, costs of supplies, etc.