PHOENIX ATTORNEY MARK BRIGGS ON WHY AN ADVISORY BOARD COULD BE HELPFUL TO YOUNG COMPANIES.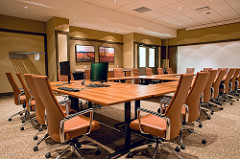 In this week's blog post, Phoenix attorney Mark Briggs discusses the benefits of forming an advisory board:
Over the years, I have worked with dozens of entrepreneurs who've had a great vision, but lacked key skills or experience they needed for their companies to reach their full potential. Entrepreneurs often have a lone wolf mentality, which certainly serves them well in many regards but it can also limit them, too. So one suggestion I often make to my entrepreneurial clients is that they create an "advisory board" for their company.
An advisory board is basically a group of advisors of your choosing, who come together periodically (I suggest quarterly) to give you advice about how to run your company. They also can provide invaluable access to customers, key employees, capital and other resources. Unlike a traditional board of directors, an advisory board does not have legal duties to the company and its shareholders, and I find this creates more of a fun, creative atmosphere.
As a 2010 New York Times article put it, "…business owners credit their advisory boards with cutting costs; helping with product development; introducing them to valuable clients, investors, and suppliers; and eliminating the sense of isolation that can come with running your own business. Most crucial, an advisory board makes a chief executive answerable to a third party."
That last point, especially, is reason alone to have an advisory board. As I've mentioned in previous blog posts, having someone to keep you accountable in your business is tremendously advantageous. An advisory board can serve this very role, bringing an outside perspective to your business and helping to keep your focused on the long-term needs and goals of your company.
Here are some links to helpful blog posts and articles to aid you in your quest to establish an advisory board:
– Forbes: "How To Set Up An Advisory Board"
– Businessweek: "Don't Go It Alone: Create an Advisory Board"
– New York Times: "How to Create an Advisory Board"
I will do some more blog posts in the future about the nuances of advisory board creation, direction and maximization. In the meantime, do you have any experience with an advisory board? Please share your insights in the comment section.
Photo Credit: reynermedia